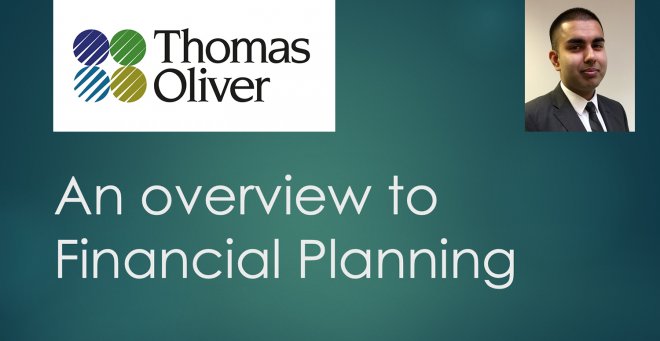 How Thomas Oliver assists you with financial planning
Wednesday 20 November, 2019
Our Financial Adviser for North London, Cheshunt, Waltham Abbey and Hertford, Vishal Gulrajani recently presented at the Broxbourne Golf Club in Hertfordshire.
His presentation provided the audience with an overview of 'What is financial planning?' and Vishal discussed how Thomas Oliver can assist anyone who needs financial advice.
In the presentation Vishal considered the key reasons why individuals require financial planning.
How savings, Investment and Inflation are all interlinked in respect of growing your wealth
Vishal explained about the effects of inflation and the need to ensure your savings don't lose their purchasing power.
For more information read Vishal Gulrajani's article – Consider equity investing for long-term returns that beat inflation
Investment Planning
Anyone who has savings that they can invest for the long-term, (over five years) could consider equity investing. However, we recommend that clients always keep a cash reserve in case of emergencies.

The presentation focused on times in your life when you might need the help of a financial adviser. For example, if you were saving up to purchase a new house, if you need to pay children's school or university fees, or if you go through a life changing situation like bereavement or a divorce.
Retirement Planning
Our qualified financial advisers offer pension advice to anyone looking to start saving into a workplace pension or anyone about to retire who wants advice on funding their retirement. Our Thomas Oliver financial advisers also offer financial advice to people who are retired and want to generate a retirement income to achieve their financial goals.
Vishal Gulrajani, Financial Adviser in North London, Goffs Oak, Cheshunt, Waltham Abbey, Hertford & Hertfordshire said:
'We work with clients on an individual basis by looking at their own retirement requirements before recommending financial advice. It's important that we educate people about the new choices that are available through pension freedoms. We believe the key to financial planning is often to utilise a variety of options and helping clients retire in the most tax efficient way. Some clients that we meet think that their own retirement is so far off it's not worth planning for. However, if you don't plan for your retirement and start saving as soon as possible you might not be able to afford your basic living costs when you stop work. Even if you are only saving a small amount for your retirement it is never too late to start saving and we have seen so many people put off the decision and then regret it later.'
Inheritance Tax Planning
Some clients who own homes in London and invest in equities have benefited from rising property prices and a strong stock market. However, as a result their dependents may have to pay inheritance tax on their death, so they need to consider estate planning. Thomas Oliver work with clients to reduce their potential inheritance tax liability through pensions, gifting assets away, setting up trusts for dependents and gifting money to charity.
Inheritance Tax Case Study
In 2021 all adults will have a £500,000 threshold free from inheritance tax (including a main residence nil rate band), so for a couple this will be £1,000,000.
To find out the total value of an estate take assets minus liabilities. However, if the couple die and their estate is worth £2,500,000 which includes a £500,000 mortgage on a property then their dependents will pay 40% tax on 1,000,000.
Assets of £2,500,000 – Liabilities of £500,000 = £2,000,000
£2,000,000 - £1,000,000 (free from IHT) = £1,000,000
£1,000,000 @ 40% tax = £400,000
Vishal Gulrajani, Mortgage Broker & Financial Planner in North London, Goffs Oak, Cheshunt, Waltham Abbey, Hertford & Hertfordshire continued:
'Whatever your financial circumstances whether you are starting to save into a workplace pension, due to retire or looking to manage your estate planning our qualified financial advisers are here to help. At your free initial consultation, our advisers will find out more about your financial circumstances, so they are well placed to offer you relevant financial advice. Given the damaging effects of inflation and the low savings rates currently on offer any savings you have may be better invested through pensions, funds, bonds, stocks and shares or properties. Thomas Oliver will review your situation and ensure you understand all the product details and are made aware of any risks before you decide how to invest your savings.'
In Summary…
If you are new to financial planning and want to invest for the longer term, please call our qualified team of financial advisers on 01707 872000 to arrange a free initial consultation to discuss your financial planning requirements. It is never too late to start financial planning and the earlier you get financial advice the more chance you have of achieving your financial priorities in later life.
The value of an investment and the income from it could go down as well as up. The return at the end of the investment period is not guaranteed and you may get back less than you originally invested. The contents of this article are for information purposes only and do not constitute individual advice.