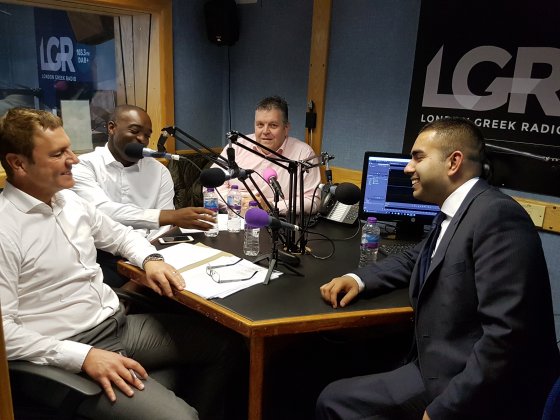 Interview with Vishal Gulrajani – Why choose Thomas Oliver?
Wednesday 17 October, 2018
Thomas Oliver's Mortgage Broker and protection specialist, Vishal Gulrajani talks to London Greek Radio presenter Iro Livanou about mortgages, property, pensions, protection, insurance and Thomas Oliver's client service. Listen here to the full twenty minute interview.
Why use Thomas Oliver?
Thomas Oliver was founded in 2009 and is the sister company of estate agent King's Group. Thomas Oliver works with Openwork one of the largest financial network providers. Vishal Gulrajani was asked why the Thomas Oliver brand was so well regarded and he responded: 'our service – if you read any of our reviews or have any friends or family who have dealt with us they will tell you our client service is phenomenal.'
Vishal Gulrajani commented on the bronze Mortgage Adviser ESTA Customer Service Award Thomas Oliver won in 2018. This award was voted for by Thomas Oliver's mortgage clients who judged their mortgage broking team and the mortgage and protection advice they received. For more information read: Thomas Oliver win bronze Mortgage Adviser ESTA award.
Property Outlook – will the property market recover?
Vishal Gulrajani discussed the outlook for mortgages as he believes 'we are starting to see the ramifications of Brexit.' In the short-term he believes the uncertainty surrounding Brexit is affecting the property market, especially in the high net worth market, although some markets such as coastal areas are still booming. However, Vishal Gulrajani believes that 'we will have certainty in a year or two' and the longer term outlook is much more positive.
Vishal Gulrajani talked about the importance of educating school children as school leavers, 'don't learn enough about the real world and don't understand inheritance tax planning.' Vishal Gulrajani recommends that anyone starting work in their twenties should consider saving into their company auto enrolment pension scheme, but read their company pension scheme brochure and check that the pension is the right for them. Vishal Gulrajani commented that anyone requiring pension advice should consider speaking to a financial adviser.
Insurance Planning
Vishal Gulrajani recommends speaking to your financial adviser if you want protection for your family because a financial adviser will tailor make a policy for your personal circumstances. Vishal Gulrajani gave an example of the type of insurance cover a family should consider when one of the partners is earning over £100,000 and the other is at home. In this situation the couple should consider taking out income protection, but they should also both review their life cover and critical illness cover.
Vishal Gulrajani, Mortgage Broker in Goff's Oak & Cheshunt, Hertfordshire said: I was delighted to be interviewed by Iro Livanou on London Greek Radio, as I had enjoyed being a guest on 'The Property show' earlier in the year. I discussed a range of topics with Iro including the outlook for property, pensions and insurance. As I discussed on the radio if you are wanting pension advice or protection advice consider speaking to one of Thomas Oliver's qualified North London financial advisers. Similarly if you want mortgage advice please contact the Thomas Oliver mortgage broking team. All our mortgage brokers will review your personal circumstances and find the most suitable mortgage products for your situation. We offer a free initial consultation so contact us now on 01707 872000.'
Listen to the complete interview with Mortgage Broker Vishal Gulrajani.