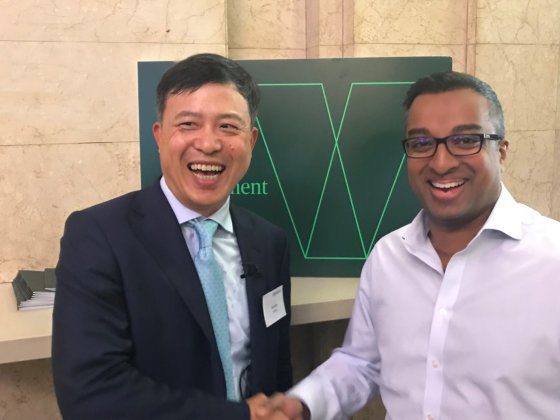 Bobby Bhuiyan meets Ezra Sun, Fund Manager of the Veritas Asian Fund
Introduction to Ezra Sun – Fund Manager for Omnis Asian Funds
Wednesday 25 July, 2018
Bobby Bhuiyan, Thomas Oliver's Central London Financial Adviser and Financial Planner, met Ezra Sun, Fund Manager of the Veritas Asian Fund at Omnis Evolution event in London.
Bobby Bhuiyan attended the Omnis Evolution event in Cornhill London as it was an opportunity to meet the fund managers and hear first-hand about the strategies that different fund managers use to manage our client investments.
At the conference Bobby Bhuiyan spoke to Ezra Sun. According to his profile on New Model Adviser 'Ezra Sun is someone who pursues independent themes and is not afraid to follow his convictions.'
New Model Portfolio describes Ezra Sun's style as global thematic. He draws on regional specialists to fine-tune his decisions. He manages the Veritas Asian fund and is currently a director, fund manager and head of Far East at Veritas.
Ezra Sun joined Veritas Asset Management (UK) Ltd from Newton Investment Management in 2004. He joined Newton as an Asia-Pacific equities analyst in 1995. Born in 1967, Sun is fluent in Chinese and holds a degree in English Literature from Nankai University, China. He was also a research student at Cambridge University.
Bobby Bhuiyan, Thomas Oliver's Central London Financial Adviser and Financial Planner, said: 'One of the advantages of attending the Omnis Evolution event is the opportunity for financial advisers to not only listen to the fund managers but also speak to them in person and ask them the questions that our clients ask us. When the financial advisers at Thomas Oliver offer financial advice it is really reassuring to clients that we have recently met the fund managers and understand their fund strategy and investment outlook. I was fortunate to speak to Ezra Sun at the event. The Veritas Asian Fund he manages has a Citywire AA rating.'