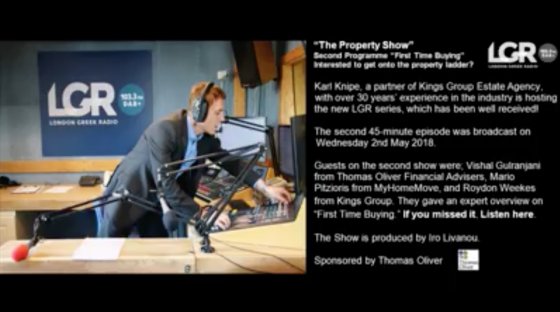 Vishal Gulrajani guest speaker on second property radio show
Thursday 31 May, 2018
We recommend first time buyers listen to this Property Radio Show recording on London Greek Radio, as Thomas Oliver's Hertfordshire Mortgage Broker and protection specialist, Vishal Gulrajani, joined Kings Group Partner Karl Knipe as a guest on the second of a six part property radio show on 2ndMay at 7.15pm. The radio show called 'The Property Show,' will be aired on the first Wednesday of every month until September.
Vishal Gulrajani, Mortgage Broker in Goff's Oak & Cheshunt, Hertfordshire said: 'I was pleased to be asked back to take part in the second radio show. I was joined by Mario Pitzioris from MyHomeMove and Roydon Weekes from Kings Group. The main emphasis of the programme was first time buyers and anyone else interested in getting on the housing ladder. We discussed 'the definition of a first time buyer,' and I made the point that the legal definition is different to that used by some mortgage lenders. If you haven't owned a property in the last three years some lenders will still give you the same preferential terms as first time buyers. We also considered – 'what do first time buyers need to consider when buying a property?' as purchasers do need to review their budget and make sure they have considered all the costs involved in home buying. There could be stamp duty to pay and at Thomas Oliver after reviewing an individual's financial circumstances our mortgage advisers may also recommend purchasing insurance. At Thomas Oliver as part of the mortgage planning advice we offer we assist first time buyers and review their budgeting to ensure they can cover all the costs of home buying before they make their purchase. To arrange an appointment and meet with us for a free initial consultation call Vishal Gulrajani on 01707 872000.
Vishal Gulrajani, Mortgage Adviser in Goff's Oak & Cheshunt, Hertfordshire continued:
'London Greek Radio is a great radio station with an engaged audience. It is fantastic that Kings Group have been able to organise this property series as there is so much interest in property within London. As the property market is always changing it is important that everyone involved has the right information to be able to make sensible and informed decisions. I wish Karl Knipe every success with the programme. The third episode airs live on Wednesday 6thJune at 7:15pm.' If you missed the first show you can listen again here: The Property Show on London Greek Radio.
For more information please read: Vishal Gulrajani, Mortgage Broker in Goff's Oak & Cheshunt, Hertfordshire:
Is residential property now a buyers market