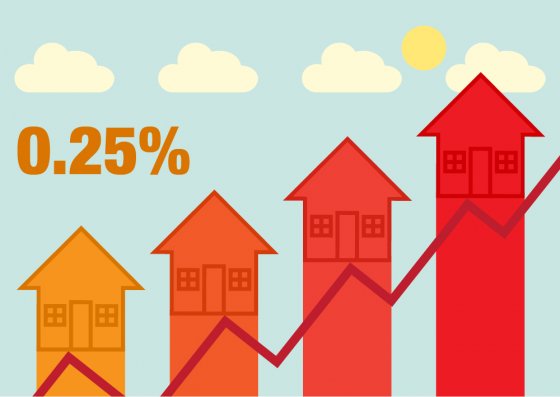 How will the interest rate rise affect your mortgage?
Tuesday 7 November, 2017
Thomas Oliver's Hertfordshire Mortgage Broker and protection specialist, Richard Rushworth, considers how the recent interest rate rise affects your mortgage, and why he recommends his London and Hertfordshire clients arrange mortgage advice.
On Thursday 2nd November 2017 the well anticipated interest rate rise from the Bank of England took place. As expected it was a small incremental rate increase from 0.25% to 0.5%.
In the following mortgage article Vishal Gulrajani, Mortgage Advisor in Goff's Oak and Cheshunt reviews the potential implications of the rate rise, and what it actually means for the average consumer with a mortgage.
How does the rate rise affect anyone on a fixed rate mortgage?
Starting with the mortgage market the first thing to note is if you are locked into a fixed rate mortgage, your payments will not go up as the interest rate increase does not have an impact on your current mortgage situation.
How does the rate rise affect anyone on a variable rate mortgage?
It is important to appreciate that from December 2017, the variable rate for most mortgage providers is likely to increase by 0.25% in line with the increased Bank of England base rate rise. Therefore if you are considering fixing your mortgage it is even more important you re-fix your rate in time to avoid additional charges on any variable rate mortgage.
How does the rate rise affect anyone with a tracker rate mortgage?
The main consumers that will be impacted by the rate rise are those that have tracker mortgage products. If you are on a tracker rate, your mortgage rate would have already risen by the time you have finished reading this article, as your rate increased by 0.25% on Friday 3rd November.
As a result the majority of consumers that are on tracker rates maybe better to re-fix their mortgage rates for the foreseeable future as many experts predict further incremental interest rate increases could be expected over the next 2 years.
Richard Rushworth, Mortgage Adviser and protection specialist in Cheshunt said:
'The interest rate rise should not come as a shock as we have had a low interest rate environment and good economic growth for several years now. In fact if it wasn't for Brexit interest rates may have increased already. As a result I have contacted all my clients on tracker rates to offer them an immediate financial review with mortgage advice to see if transferring to a fixed rate mortgage would be beneficial for them. If it is I will encourage them to ensure they re-fix their mortgage rate before the fixed rates go up, which banks have already started to sanction.
The rate rise should come as no surprise so I encourage anyone seeking mortgage advice to contact me on 01707 872000 to arrange an immediate mortgage review. The 0.25% increase in rates should give you an incentive to sort out your long-term finances, including your mortgage, as it may prove to be the first of several future rate rises.'