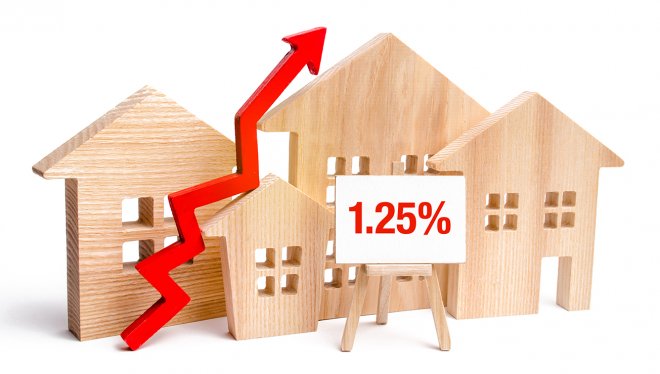 Interest Rate rises continue to roll in
Thursday 16 June, 2022
The Bank of England has raised the base interest rate to 1.25% from 1%. This is the highest base rate since January 2009.
The interest rate increase follows the US Federal Reserve increase to its highest level since 1994, a range of 1.5% to 1.75%.
It should be noted that the Bank of England's Monetary Policy Committee voted 6-3 to increase Bank Rate by 0.25 percentage points with the minority preferring a higher increase of 0.5 percentage points, to 1.5%.
Inflation a key factor
The Bank of England's Monetary Policy Summary cites inflation as one of the major factors for the recent regularity in Interest Rate rises.
"In the MPC's central projections in the May Monetary Policy Report, UK GDP growth was expected to slow sharply over the first half of the forecast period and, although the labour market was expected to tighten slightly further in the near term, the unemployment rate was projected to rise to 5½% in three years' time. CPI inflation was expected to average slightly over 10% at its peak in 2022 Q4."
Review your mortgage deal
We are speaking to many clients who fixed their mortgage during the pandemic, but many of them only fixed for a two-year term. Many clients are now having to review their mortgage deal or they are due to re-mortgage during the next 3 to 6 months.
Uncertain economic times
We are all affected by rising food, fuel, and energy costs. Living costs are increasing for everyone, and we are beginning to see businesses adversely affected by inflation too. Central banks across the world are having to act and raise interest rates. The mortgage lenders will follow by increasing their standard variable rate and increasing the cost of fixed rate mortgages. As we don't know how long the cost-of-living crisis will continue no one knows how high base rates will have to rise.
Review your monthly expenditure
As your mortgage is likely to be your biggest monthly outgoing it's worthwhile getting a mortgage review and checking your options with our mortgage brokers. Be ready to act at least six months before your mortgage comes up for renewal, as many mortgage lenders will guarantee an offer for six months which protects you from more rate rises.
Don't delay act now and call our mortgage brokers on 01707 872000.