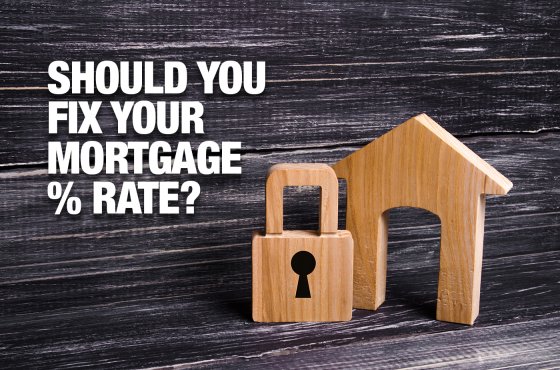 We are often asked "Should I fix my mortgage rate?".
Is now a good time to fix your mortgage?
Wednesday 13 June, 2018
Thomas Oliver's Hertfordshire Mortgage Broker and protection specialist, Romany Yousab, considers why it could be a good time for home buyers to fix their mortgage.
Most advisors were warning clients about mortgage rate increases before the base rate rise in November, and it is important to reiterate this, as maintaining vigilance is key.
Even with the base rate rise in November, interest rates have remained low and the main impact of the base rate change has been on the variable rate. In terms of fixed rates, rates have only increased by 0.05% on average since November with a 0.1% rise happening before November in anticipation of the base rate rise (Charlotte Nelson – Money facts).
Remember the base rate increased by 0.25% whereas generally fixed rates have only increased by 0.15%. Consequently this suggests the mortgage market is quite stable and lenders are competing fiercely for business to gain a greater share of this competitive market.
Romany Yousab, Mortgage Broker and protection specialist in Nottingham said:
'Our clients often ask why lenders would be willing to cut into their profits by keeping their rates relatively low, but this is the result of key legislation changes that are happening elsewhere, for example tax changes on rental income. Lenders who offer mortgages in both the investment mortgage market and residential mortgage market may want to keep their rates low to maintain their overall share in a market where investment mortgages have reduced by 17%. Remember lenders are adapting more quickly than ever due to advancements in technology. As a result I wouldn't expect this situation to last forever so we may see investment mortgage rates increase again next year with more lenders offering limited company buy-to-let mortgages. We may then see lenders rates starting to move in line with base rate increases, when they can guarantee their share of the market.'
Romany Yousab, Mortgage Broker Nottingham continued:
'There was a lot of talk in the media about the possibility of another base rate rise following the previous Monetary Policy committee meeting. Following this, official figures are showing a fall in wage inflation despite a fresh drop in unemployment, the prospect of a summer increase in interest rates from the Bank of England has now receded. It may however only be a matter of time before the base rate does eventually increase. Consequently I would advise consumers who are on the standard variable rate or have their fixed rate mortgage deals coming to an end to act quickly. However, re-fixing your mortgage may not be appropriate for everyone. I would recommend you take mortgage advice as only through a mortgage planning review can we assess your individual mortgage circumstances. For more information and to book an appointment with a Thomas Oliver mortgage adviser please call us on 01707 872000. Nobody can predict the future, however, the general consensus is act now while rates are low before the mortgage market increases its rates as a whole.'
For more information please read: